Movie coaches are something that we see in every sports film ever made. Sometimes the movie revolves around a actual real life coach and what he has accomplished in their life. Others have fictional coaches that are there to prove a point and get the message out to the viewers. The coaches aren't always nice and supportive either, they can be very harsh to the team to where it's almost abuse. Even with that they will teach the players real lessons for the game and life. I will say there is some pretty horrible coaches out there at don't know a thing about coaching anything except abusing. Here are the best coaches in sports movies.
Norman Dale (Gene Hackman) - Hoosiers (1986)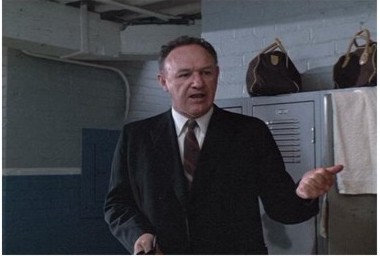 Coach Dale is played by the very talented Gene Hackman and this is considered one of his best movies. He plays the coach of a small (very small) Indiana high school basketball team on early 50s. He is an abusive coach and even once struck a student. The team ended up loving him after they settled differences and won a championship.
Quote from film "
And David put his hand in the bag and took out a stone and slung it. And it struck the Philistine on the head and he fell to the ground. Amen.
"
Harold Jones (Ed Harris) - Radio (2003)
Coach Jones is one of the most harsh looking coaches that is actually one of the nicest people in the world. He took in the local student radio (Cuba Gooding Jr.) that was handicapped and harassed by the football team to be an assistant helper. He taught the team to love and respect others no matter how different they are and he allowed the town to open their eyes.
Quote "
It's never a mistake to care for someone. That's always a good thing
!"
Don Haskins (Josh Lucas) - Glory Road (2006)
Coach Haskins was a great coach that realized talent and creating a team has nothing to do about color or background. He took a bunch of kids around the country that had raw talent and turned them into a college level team that could be amazing and accomplished it.
Quote "
Your dignitys inside you. Nobody can take something away from you you dont give them.
"
Ted Orion (Jeff Nordling) - D3: The Mighty Ducks (1996)
The coach that replaced one of the greatest coaches in movies is actually a really amazing coach. He is the teams newest coach that they dislike because he has rules and doesn't take crap. We soon find out he is actually a very caring man that wants these kids to win and be great. He gives a defense speech that is quite true about hockey and life. Best replacement coach in a film series.
Quote "
It's very, very difficult to keep that confidence when you gotta take whatever strange bounces life throws your way. Don't be careless, but don't be too careful either. You cannot be afraid to lose!
"
Jack Lengyel (Matthew McConaughey) - We Are Marshall
He is one of the weirdest coaches but he is by far one of the most caring coaches you'll ever see. He took a town that just went through tragedy and turned them around into being alive again just by making a team great. Lengyel will go down in history at Marshall for his amazing contributions. They are Marshall.
Quote "
It doesn't matter if we win or if we lose. It's not even about how we play the game. What matters is that we play the game
."
Gordon Bombay (Emilio Estevez) - The Mighty Ducks (1992)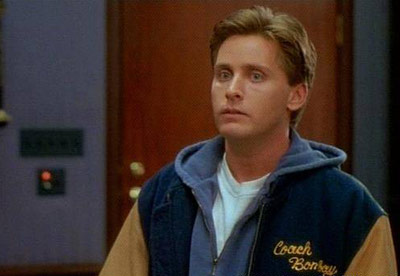 Coach Bombay was my favorite coach when I was little because he coached the ducks! Also, he started out not caring and was lost but he found love and a purpose when he started coaching a small team of ragtag kids in hockey. The movie is hilarious and has serious moments all around but we see an evolution of Coach Bombay that is great inspiration to anybody. Just don't think driving drunk will help you achieve this.
Quote "
We're not goons. We're not bullies. No matter what people say or do we have to be ourselves
."
Gary Gaines (Billy Bob Thornton) - Friday Night Lights (2004)
Coach Gaines was perfectly cast with Thornton because he can be a giant ass and a person to look up to at all times. He took a small town team and turned them into a team that made it the playoff finals. It gave everyone great signs of dedication and hope.
Quote "
Being perfect is not about that scoreboard out there. It's not about winning. It's about you and your relationship with yourself, your family and your friends. Being perfect is about being able to look your friends in the eye and know that you didnt let them down because you told them the truth. And that truth is you did everything you could
.
That is perfection!
"
Ken Carter (Samuel L. Jackson) - Coach Carter (2005)
Samuel Jackson was the absolute only choice to be the extremist Coach Carter. He isn't like most coaches that only want to win, he genuinely cares about the kids. He even makes them all sign contracts to play and do better in school. While at same time he is teaching them to respect each other and others because he was disgusted with what he saw. Carter eventually took it to have a lock-out from the gym. Great coach all around with the game and lives of players by going from boys to men.
Quote "
These are student-athletes...Student comes first.
"
Herman Boone (Denzel Washington) Remember The Titans (2000)
This film has gone down in history as one of the greatest sports movies of all time and with good reason. It has an amazing cast and amazing story. Boone came in and was the bad guy from the start. He made them cry and throw up but he achieved the impossible and made a racially mixed team become one in rough times and succeed and show the world they could.
Quote "
I'm not gonna talk to you tonight about winnin' and losin'. You're already winners 'cause you didn't kill each other up at camp.
"
Herb Brooks (Kurt Russell) - Miracle (2004)
This is my all time favorite sports movie of all time. Russell does the most amazing job as Coach Brooks. The story of the 1980 olympic hockey team is one of the most well-known stories of triumph in sports. The US team beat the USSR!! unbelievable they beat the "unbeatable" team. Brooks coached harder than anyone ever before and he help guide an okay team into a great team. He will go down in history as one of the all-time best coaches.
Quote "
You pull on that jersey, you represent yourself and your teammates; and the name on the front, is a hell of alot more important, than the one on the back. And great moments are born from great opportunities.
"
More great coaches include the coach from The Blindside, Coach Morris from the Rookie, and Morris Buttermaker from Bad News Bears
PSN ID and Twitter: fusionman15