2010 is over and it may have been one of the best years for movies in recent years. This list has been one of the hardest Top 10 list I've compiled ever. The top movies are so close to the best of the year that it is almost impossible to rate one higher than the other.
10. How to Train Your Dragon
How to Train Your Dragon has almost accomplished something very hard to do and that thing is letting DreamWorks surpass Pixar to produce the best animated film of the year. The film has great 3D with great animation, which has been troublesome for studios to do in recent years, except for Pixar. The story has some good family humor with jokes for adults and children a like. I expect to see great things from DreamWorks Animation in the near future.
9. True Grit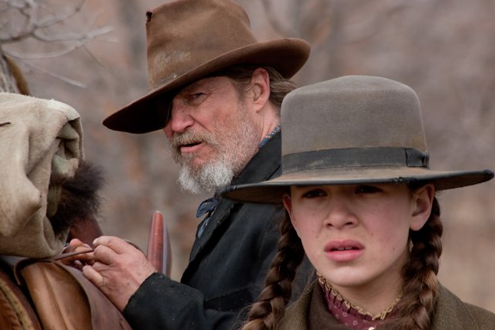 I was a little hesitant when I heard the Coen brothers were remaking the beloved John Wayne classic True Grit. I thought nobody could play Rooster Cogburn besides John Wayne, but I was happily proved wrong when Jeff Bridges took on the role. The casting was fantastic with Matt Damon as the Texas Ranger LaBoeuf and the new up and coming star Hailee Steinfeld as Mattie Ross. They were fantastic at playing characters in that time period. The best thing of True Grit is the landscape and feel of the film. It looks like a true western and it is nice to now that great westerns can still be made,
8. Shutter Island
Shutter Island is the fourth partnering between Leonardo DiCaprio and Martin Scorsese. Usually movies being made with same people start to get stale, but this pair just seem to get better with every movie. This movie was the first great film of 2010 and it proved to be a great throwback to the old noir films. Leo did an amazing performance in every scene. You could feel every emotion he had throughout. The supporting cast was fantastic and the last 45 minutes will lead you into thinking of the ending hours after you have seen it.
Black Swan was a film I didn't really want to see when I heard about it going into production. It just seemed to out there, but I was dead wrong. Natalie Portman gave her best performance ever and I think everyone knows it. The way it is filmed just gives it that surreal look that helps you feel like your right there with them. The lesbian scenes will make it a guy favorite for sure, but most will be satisfied with the amazing story. Black Swan is one of 2010's love it or hate it films.
6. Scott Pilgrim vs The World
Edgar Wright has been a favorite director of mine since Shaun of the Dead, so naturally I was excited about him doing something out there like
Scott Pilgrim vs The World.
The story is pretty straight forward with a guy who has to defeat a girls seven evil ex's. It's a great story, but the ride to the end is spectacular. The humor is something you never ever find in movies. That is what makes this movie something I've never seen before. It finds the magic line between humor and action to make it one hell of a fun ride.
5. Kick-Ass
Kick-Ass had the shock value when it was released. How could a little girl do all that violent things in one movie? That was the question moms and dads must have thought when they saw the trailer. It had a fantastic story that has been somewhat done before, but it makes the characters more human than others similar films have done. Kick-Ass is a normal guy who wants to be a superhero, but just gets the crap beat out of him. He meets a real hero Big Daddy, who with his daughter Hit Girl are actually amazing at what they do. The pairing of the three are fantastic. This is for sure the best super hero film of the year.
4. Toy Story 3
Pixar has done it again with a threequel no less. It's a pixar first to have a second sequel to a movie and have it be the highest grossing animated movie of all time. Toy Story 3 is the perfect send-off to the beloved story of Woody, Buzz, and the rest of the gang. It's animation is the best I've ever seen and it's story is fantastic. I still have trouble believing it was possible for Pixar to go into unseen territory with a third film in a series. Since it was a perfect ending to the Toy Story saga, I can only hope their future sequels have the same great send-off. I am a little worried with Cars 2 going into the cliches of spy films.
3. The Town
This is where the list of films start to get really hard to make a choice for top film.
The Town
has proven that actor turned director Ben Affleck is a seriously gifted director.
The Town
has a great love story and action all rolled into one amazing film. I didn't think I would really like
The Town
as much as I do after seeing the film, but after the realistic opening I was proven wrong. The action is something you hardly never see in films. The bullets are realistic and not made to sound like Hollywood made the sounds. The casting was fantastic and each actor gives it their all. It proved to the world that actor Jeremy Renner is a gifted actor and he has been projected into mainstream films because of it. I have trouble deciding between
The Town
and
The Hurt Locker
for Renner's best performance though. I also hope this film projects the stars into more projects and give Affleck a serious role in Hollywood as director. I have nothing but praise for this film.
2. The Social Network
David Fincher has amazed me by making an amazing film about the creation of Facebook. I thought he made a huge mistake when taking on The Social Network. I don't think I have ever heard anything good about Facebook creator Mark Zuckerberg. So, why would I care to a film based on him? I figured it out and the answer is to see a thrilling life story about a person people hate, but it makes you feel for him. Sure he is a little anti-social, but that is just some of the unbelievable things that happen in this intense drama. Jesse Eisenberg has really proven himself playing Zuckerberg and so has Justin Timberlake playing Napster creator Sean Parker. I have grown really fond of Timberlake since he hosted Saturday Night Live so many times. He has grown into a fine actor and I actually want to see some more of his work in the future. I feel like The Social Network did to website making, what Wall Street did to the stock trade. The answer is make it seem awesome and sophisticated. The cast is perfect, the way it is filmed gives it that thriller look, the humor is well placed and I can't way to a Myspace film in the near future. That last part was a joke, unless David Fincher is going to do a networking trilogy with Myspace and Twitter.
1. Inception
Inception proved that a summer blockbuster doesn't have to be a dumb action film. This movie has absolutely nothing bad about it. The cast was just superb with Leonardo DiCaprio, Joseph Gordon-levitt, ken Watanabe, Marion Cotillard, and rising actors Ellen Page and Tom hardy. I feel like Chris Nolan will make a bad movie. He is the Spielberg of the 21st Century. The story is compelling and smart with so much action. The thought of going into somebodies dream alone is amazing, but to get into it and plant an idea that is unheard of. Inception shows that Chris Nolan has been messing around with the script on and off for over ten years. It may have a long runtime, but that is fine with just about everyone. I wouldn't see a movie that is short by Chris Nolan. Inception is a film that will compete with The Dark Knight to be the best Nolan film ever. Also, the score is up on the list of Hans Zimmer scores. If you haven't seen Inception yet, then go rent or better yet buy it and be amazed. Inception is the best film of 2010 by far.
Other great films that came out in 2010 that just were not the best are She's Out of Your League, Get Him to the Greek, Repo Men, Youth in Revolt, and The Crazies.
Top 10 Worst Films will be online shortly
PSN ID and Gamertag: fusionman15
Email: BenMyers92@gmail.com